Town Agent Services Fee Models
We act for many interstate firms and in many matters.  For some matters, firms tend to principally run the matters themselves and with minimal assistance from our office.  In other matters, our assistance and advice is required throughout the proceeding on an ongoing basis.
For the majority of town agent retainers in the Magistrates Court, County Court and Supreme Court we have decided to let firms choose whichever Fee Model best suits each them for particular matter in which CBL is engaged as agent.  A recurring retainer fee is payable which varies based upon the package that you choose - the higher the retainer the less you pay for hourly rates and other service items.
Choose the retainer model which best serves your client, including:
Full Detail Retainer - 'the hand wax, buff and polish of town agency services'
Premium Retainer - 'the full detail but without polish'
Deluxe Retainer - 'the exterior hand wash and interior clean'
Express Retainer - 'the self service exterior wash and dry'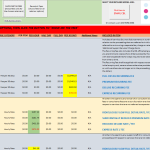 Choose your Fee Model for Town Agent Services with an interactive calculator. By clicking this image you will download an Excel file to your computer to choose your Fee Model. Once downloaded, you may need to 'enable editing' or 'enable macros'